Jet Pumps
Conmaco Jet Pumps are dependable diesel powered jet and water supply pumps. The pump is a Peerless three stage centrifugal split case pump connected with a PTO. The entire unit is mounted on a sturdy steel skid with lifting rack for simple transportation.

For pumping hot or cold fluid against moderate to high heads, contact Conmaco about the 5TUT16. Engineered with Conmaco quality and backed up by dependable service.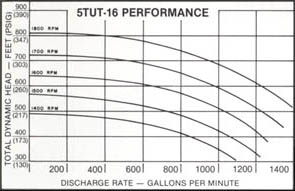 NOTE: Performance ratings are composite performance curves taken from the manufacturers published data and can vary with options and usage conditions. Do not use for purposes of design.
5TUT-16

PUMP

Type


3-stage, centrifugal opposed impeller, split case

Max. Pressure

400 psi (27.21 Bars)

Suction Port x Flange Size

6" (15.24 cm) x 125 lb. ANSI

Discharge Port x Flange Size

5" (12.7 cm) x 250 lb. ANSI

Priming

Protek/Hand

Parallel Operation

Yes (with approval)

ENGINE

Choice of engine models with electric, hydraulic or air starting

FUEL TANK

Capacity

50 gallon (189.25 liter)

Removable

YES

DIMENSIONS

Length

15'3" (4.65m)

Width

4'4" (1.3m)

Height

6'10" (2.08m)

Weight

10,000 lbs. (4,536 kg)

PAINT


Marine painted with inorganic zinc primer.

OPTIONS

The 5TUT-16 can also be equipped with either gasoline engine-powered primer or air pump priming equipment, suction and discharge hose, 6 x 5" or 5 x 4" swaged nipple for discharge, 6" foot valve and strainer or a 5" silent valve.

1602 Engineers Road.
Belle Chasse, LA 70037

Ph: 504.394.7330
Fax: 504.393.8715

Email:sales@conmaco.com